My apologies for the misleading title. Something with click bite.. So, there are several topics I want to discuss. First about hiking in the clouds, and then, of course, something about the Polish cuisine! And I will end this post with sharing my experiences with the Polish bureaucracy. As a public administration graduate, my favorite topic!
Zakopane
When I decided to go on EVS, my idea was to pick a country with high mountains, a useful language, and sunny weather. I ended up in Poland and Poland is pretty flat. Perhaps not as pancake-flat as the Netherlands, but more pancake-with-raisins-flat. Fortunately, on the south side of this Polish pancake, an air bubble made the dough come up, and there was Zakopane! If you google Zakopane, you will find pictures like this:
But, as it is autumn, lets assume it will look more or less like this: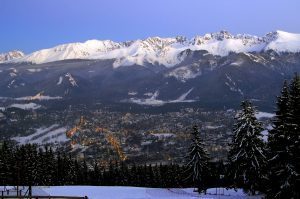 I always try not to have too many expectations. I like the surprise in the unexpected. This was my surprise:
These pictures were taken by Beata, my Polish teacher who took me with her and her boyfriend Tomek to this place. We definitely have to go again as I still have no idea about how Zakopane looks like. When we were in the valley, we couldn't see the peaks, and at the peak, we barely could see each other and we had to follow the smell of food to find the cottage. Nevertheless, hiking in the snow/in a cloud was a totally new experience for me and it was absolutely lovely.
Polish cuisine
Before I arrived in Poland, I had some prejudices about the food Poles like to fill their bellies with. I thought they would like to eat stews, with a lot of meat, carrots, potatoes, unions and a thick layer of grease on top, like the Hungarians like it as well. I have to admit, as a vegetarian, I do my best to avoid any type of meat dishes. But based on my experience so far, I like the Polish cuisine a lot! Interesting for me is that Poles use a lot of dill. For example in their dill soup, on rice, in pasta sauces, on potatoes, and on the salad. In the Netherlands we always combine dill with fish, but that's it. And I mentioned the Polish dill soup, Poles are great soup masters. Today I have learnt that their secret is in the base of the soup. Instead of using stock, the authentic Polish soups get their flavor of an overdose of vegetables and herbs (and of course twice the daily recommended amount of salt I suppose). I made an attempt to prepare a Polish soup. This was the result (it tasted a bit better than it looked.. a bit):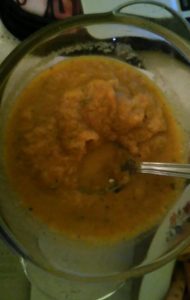 And the Polish pies… I love them! Especially sernik! As we had some left overs of an event in the Cultural Club, I ate more than 10 pieces. And I still like them, which means that they are really good!
I will keep fine tuning my version of the Polish soups. As soon as I managed to prepare something eatable, I will share my recipe.
Polish Bureaucracy
As mentioned before, I have been here for some time now and thus the time arrived to register myself as a official resident of the Republic of Poland. Such beautiful and formal words: an official resident of the Republic of Poland… And the idea is also great: one step closer to integrating into the Polish society. Well, this step was a serious challenge as well as a (second) introduction to the Polish bureaucracy. The first experience was when I had to do my medical examination: 1,5 hour of waiting in front of different computer-less offices where smiling old ladies were busy with stamps, signatures and providing me with papers which I had to deliver at the next office. Eventually the medical examination existed of another old lady poking with a torch into my eyes, a request to read an impossible Polish text in tiny letters, and a questionnaire with questions like: "on a scale of 1-5, how healthy do you consider yourself? A four? That's great! You're healthy. Here, your declaration of health!".
Moving on to my second experience: my registration at the city hall. First of all, me and my EVS mentor arrived at a building XVI, window 5: the place where you can register yourself at the municipality of Kraków. But since I am not enrolled at a university in Kraków, this was not the right window (to be honest, I don't know what the exact reason was. Something with fast Polish language). The lady was kind enough to direct us to the next window, where we received another rushed speech in Polish and a form. This form required a lot of documents I didn't bring with me so we decided to contact other people who already went through this registration circus (lesson for the next time: start with this action!). We were told to go to building VI, window 7. Here we received another form and it appeared that I had all the necessary documents with me that were needed for the registration. Except they were in English and they only accept documents in Polish. The woman advised me to go to an official translator and spend all my EVS pocket money on the translation of one document. Ha ha ha… So I went home as the same person I left it that morning: not even a bit more Polish! Fortunately, it turned out that I had this document in Polish as well (and I dumped it in a corner of my room, labeled as: unimportant/can not read and therefore unimportant). So, the next day I went again to building VI, and after being send back twice to another window for some copies, I managed to fulfill the registration. For now at least. Withing 5 weeks I will receive another document with perhaps new tasks? We will see.